Wilcoxen Arts
a collective collage of
Eggs-straordinary
artistic craftsmanship by,
Michael Wilcoxen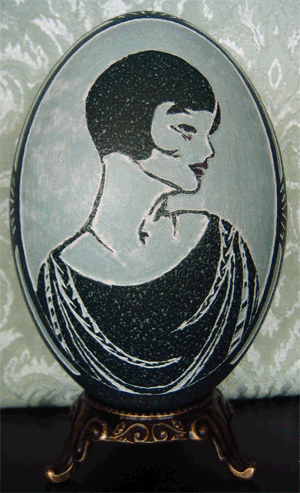 Suclpted Art Deco Emu Egg (NO PAINT) The color is in the shell
(Custom carved egg requests considered depending on style and complexity)
If you would like to purchase any of the following carved/sculpted egg designs email your request to michael@wilcoxenarts.com
Each egg carving/sculpture is
"ONE OF A KIND"
Please be aware that eggs are individuals.
They are like people -- no two are exactly alike.
If you find a design that appeals to you, it most likely can be carved again,
but it can never be exactly duplicated.
Each egg is artistically signed ,Goose eggs have artist initials carved into egg.
Emu eggs have artist name etched on the egg.